Requirements management made easy
ReQtest Requirements Management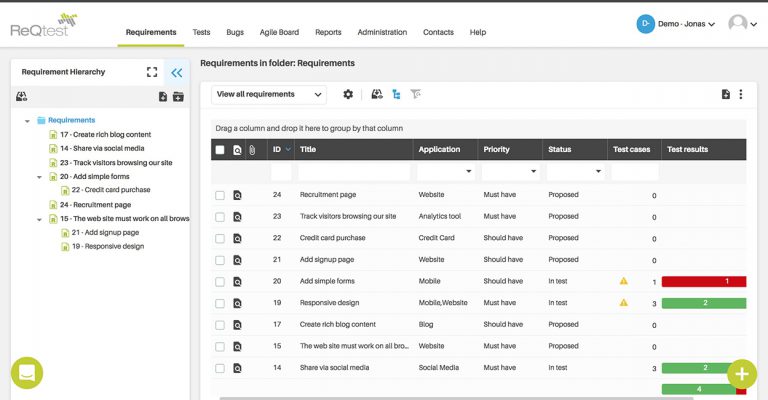 Organize your requirements efficiently
Requirement hierarchy to store requirements in a tree-based structure
Stay updated on requirement's priority, status, creation date, etc.
A powerful Agile Board for effortless requirements tracking
Requirement hierarchy with tree-based structure
Stay updated on the requirements status
Agile board for requirements tracking
Review and track all changes
Track all user edits made to the requirements in few clicks
Get comprehensive information on all of the changes made to requirements
Keep track of anything & everything
Track all user edits to the requirements
Get real-time information on all of the changes
Keep track of anything & everything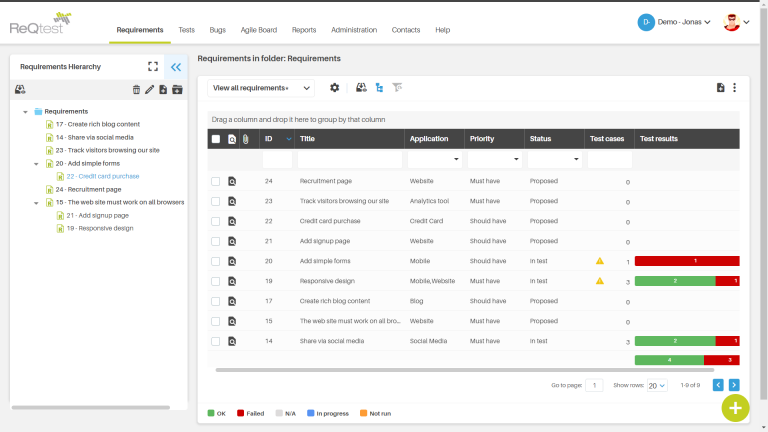 Stay updated on requirement status
Get information on which requirements are proposed, ready for testing or approved
Customize fields to change status values
Add additional fields to keep better track of requirement's status
Know the requirements are proposed, ready or approved
Customize fields to change status values
Add additional fields to keep better track of requirements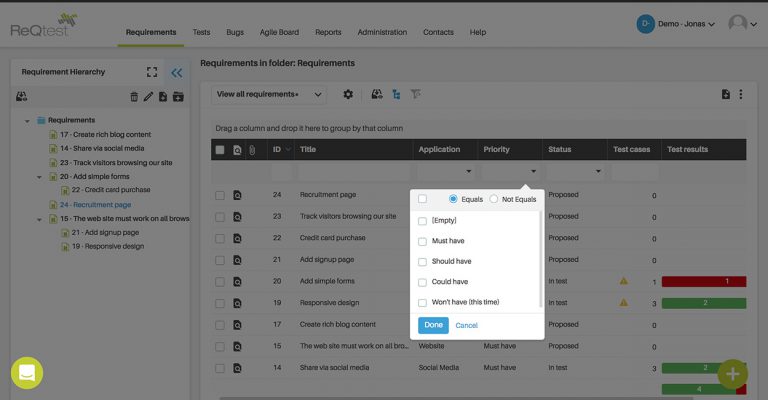 Prioritize requirements with flexibility
Rank and prioritize requirements as per preference
Prioritize requirements using the scale you prefer
Define the prioritization value inputs as numeric, high/low/medium, or the MoSCoW scale
Rank requirements as per preference
Prioritize using the scale you prefer
Define the prioritization value of input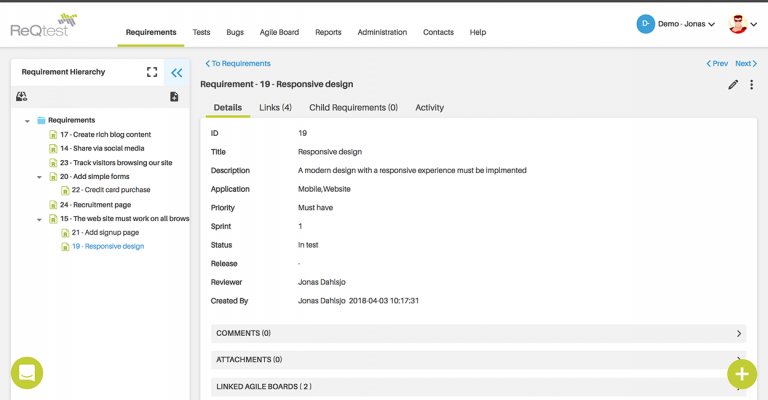 Clarify requirements by attaching files
Attach design documents, mockups, or any other helpful files to requirements
More insights on requirements render a powerful requirements management module
Requirements module designed to cater to the needs of Testers, developers & decision makers
Attach design documents or any files to requirements
Gain insights on requirements progress
Suitable for testers, developers & decision-makers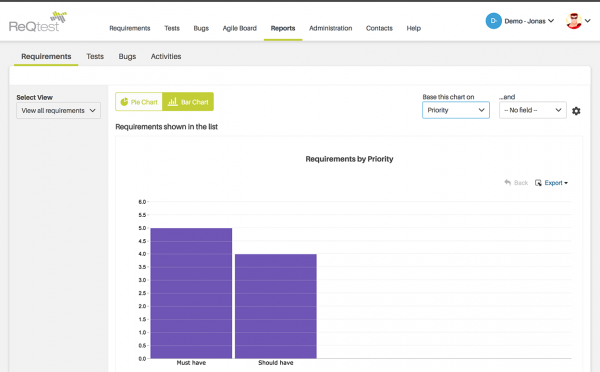 Gain insights through one-click data visualization
One-click data visualization
Filter & visualize data in a bar or pie chart in a single click
Export the charts to Word, PowerPoint, etc.
Gain insights on the effectiveness of your requirements management process
Filter & visualize data in a bar or pie chart
Export the charts to Word, PowerPoint, etc.
Gain insights on the effectiveness of your efforts
Requirements Management – Easy yet powerful way to manage requirements
Advance Requirements module
ReQtest is a cloud-based requirements management tool that has an advance Requirement module. Requirement Hierarchy in the Requirement module helps you to know the context of a requirement visually. ReQtest offers the simplest way to organize requirements. The requirements can be stored in a tree-based structure and a list-based structure. Easily get an overview of all the requirements along with their priority.
Work with latest version of requirements
With ReQtest's Requirement module you will never miss any changes made to the requirement. All the changes are updated automatically in your web browser so that you always work with the latest version of the requirements. Track the status of all the requirements whether they are incomplete, complete, ready for testing, approved or not.
Prioritize requirements
ReQtest is highly customizable requirements management software that lets you customize your Requirements module as per the needs or your project. The priority of a requirement helps your development and testing to prioritize their work. Easily define the priority of the requirements. Use the scale of your choice to prioritize the requirements.
Attachments to describe requirements clearly
Attach screenshots or images or you have the flexibility to attach video files with voice over. No need for an added explanation. Your attachments will help you in describing the requirements with clarity.
Powerful Reporting
A powerful reporting tool is all you need for knowing the effectiveness of your requirement gathering initiatives. ReQtest has a powerful Reports module that lets you populate visual graphs and charts in a single click.
Requirements traceability
Requirements are the starting point of the project. With ReQtest software, you will get an end-to-end traceability of your project's requirements.  Map requirements to test cases or you can map test cases to the requirements to ensure that the original project requirements are met. In this requirements management software, Links are the backbone of traceability and it offers an effective Link Management process.  The reporting function helps you keep track of how efficiently you are handling your project requirements.