Emailing test cases or bug reports to people inside your project (or even people working outside of your project) is easy and straightforward.
Just go to Bug Reports, click 'View bug reports', and tick whichever of the reports you want to email. Let's say you want to email three bug reports; just tick them and then click the blue 'E-mail' button at the bottom left of the page.
As soon as you click the blue 'E-mail' button you'll be taken to a new page, where you'll have the bug reports you selected in the previous screen. You can add a message to the recipients if you wish. Choose one or more recipients and click on the Send-button.
It's important to note that the people who receive these emails will also receive the details of the specific reports that you are sending, so bear this in mind.
As long as you email a bug report to someone who is not a member of this project they won't be able to reach the bug reports in ReQtest, only read the email with the information it contains. Of course, if the bug report is emailed to someone who is a member of the projects, when they click on the bug report they will be able to login to ReQtest and see the specific reports as well as comment on them if necessary.
Below is a screengrab of what a typical bug report emailed from ReQtest looks like in Google's Gmail.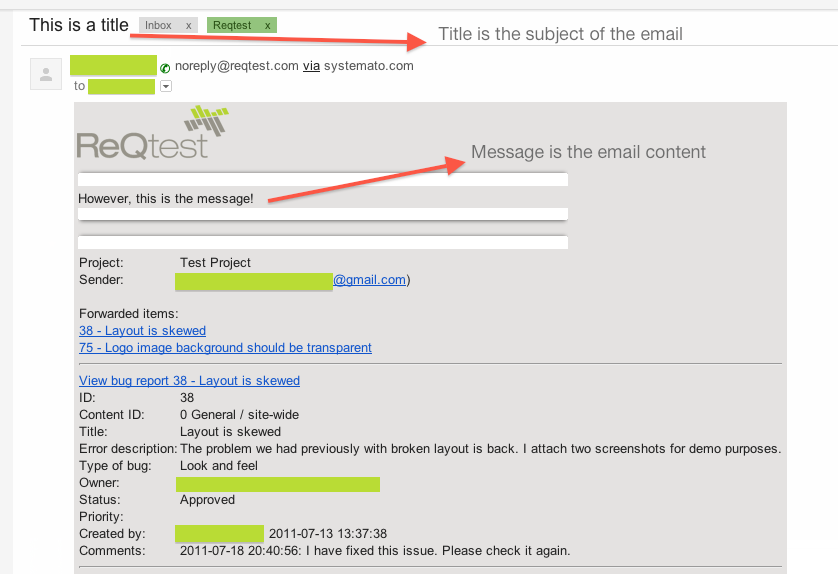 For a video demo of how to carry out the above steps to email bug reports in ReQtest, watch this video.
[responsive_vid]
Join 60,000+ Subscribers
For latest blogs, industry updates and exclusive tips.
*Your email is safe with us, we also hate spam