Explore ReQtest's features that help to release great software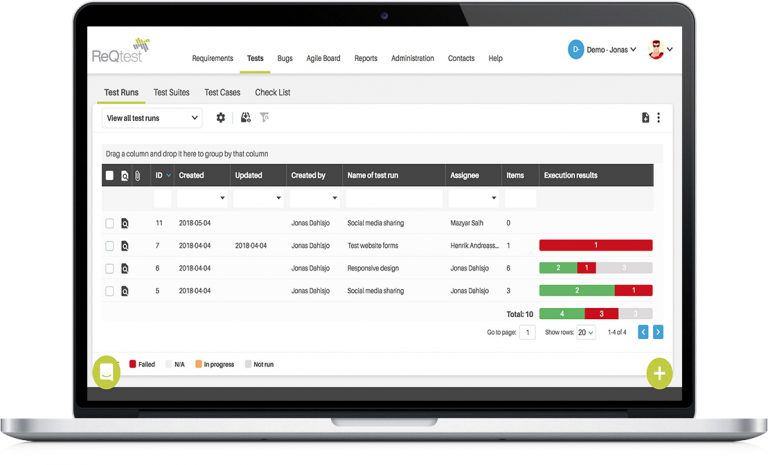 ReQtest is a cloud-based tool which consists of a suite of modules: Requirements, Tests, Agile Board, Bugs, and Reports. ReQtest provides end-to-end project management capabilities to help project teams release great software.
Cloud-based tool
End-to-end project management
Real-time collaboration
Effective reporting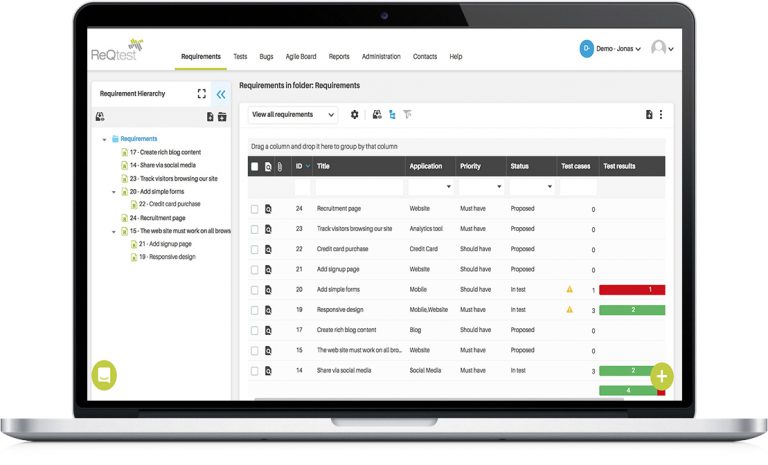 Requirements Management
ReQtest's Requirements module allows you to organize your requirements effectively. You can easily track links among requirements, test cases, and bugs. Get visual reports on how effectively you are managing your project requirements.
Organize your requirements effectively
Get full traceability of requirements
Read more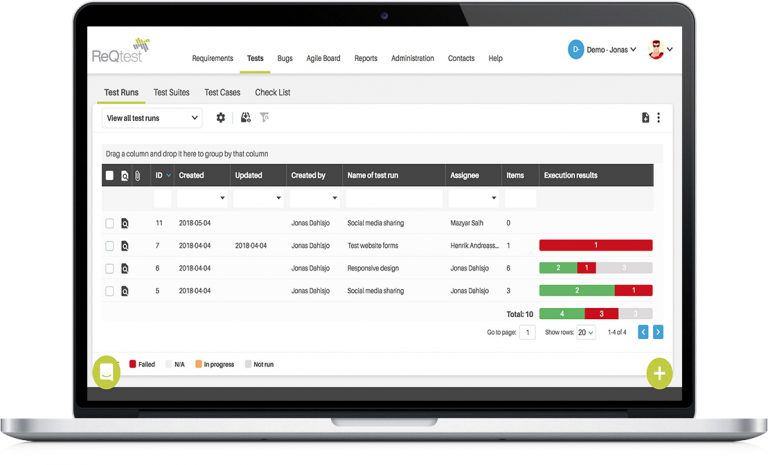 Test management
ReQtest has a test management module specially designed for QA professionals.  With ReQtest, the testing teams can manage the testing with ease. You can easily set your testing priorities and achieve your testing objectives using ReQtest.
Set your testing priorities
Achieve your testing objectives
Read more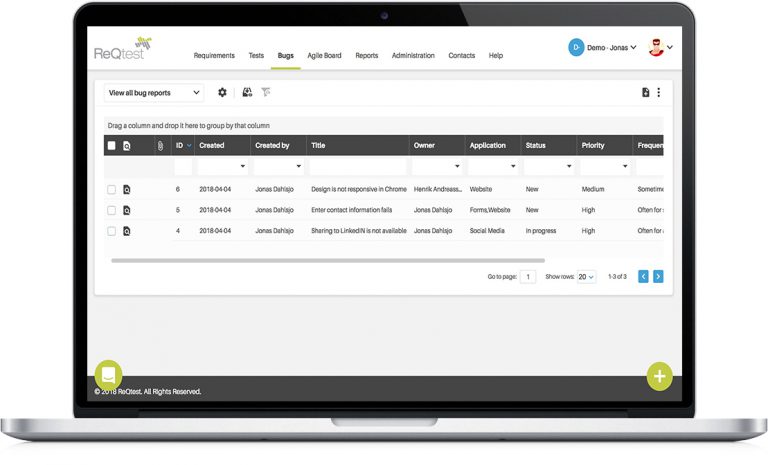 Bug Tracking
With the power of an advance and intuitive bug tracking module, tracking bugs have never been easier.  ReQtest allows developers & testers to collaborate easily and get the best results while fixing bugs. Integrate JIRA projects with ReQtest projects to manage bugs in ReQtest or Jira or both.
Collaborate on bug fixing activities
Integrate with JIRA issues
Read more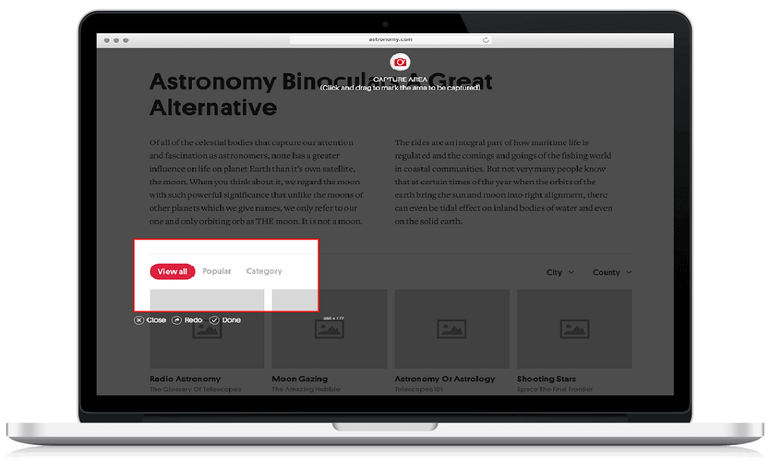 Screen Capture
ReQtest provides you with a tool for capturing bugs or describing requirements with video or images and seamlessly upload them to ReQtest. This is the fastest and easiest way of capturing and documenting bugs and visualizing requirements.
Capture bugs or describe requirements
Take screenshots or capture videos
Read more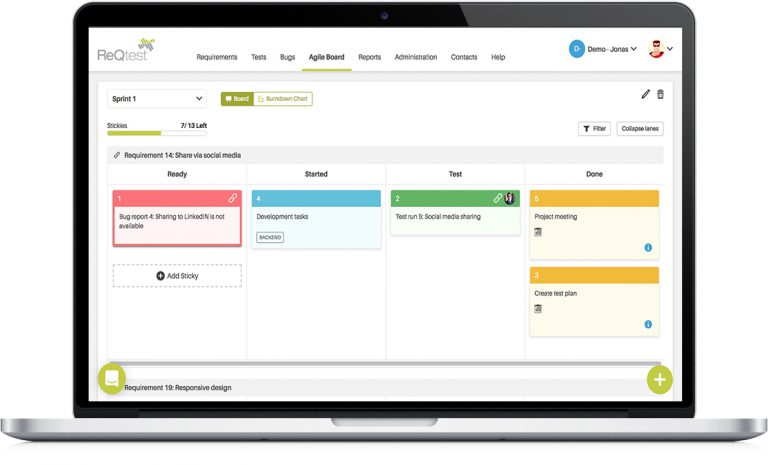 Agile board
Agile board not only improves effective communication and collaboration among your team members but brings colors to your day to day activities.  Create boards for your team, add stickies and assign them to individual team members.
Create boards for your team
Assign activities to team members
Read more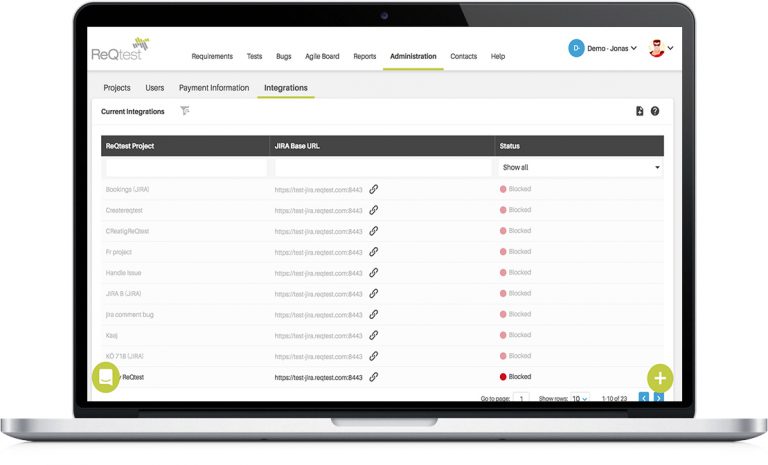 Integration
Get most of your Jira projects by integrating them with ReQtest projects.  ReQtest allows you to integrate its Tests module with Jira's issue tracking. You can manage bugs in Jira or ReQtest or even both. The full two-way synchronization between issues in Jira and bugs in ReQtest, gives you the most updated version of your bugs.
Integrate Jira-ReQtest projects
Get full two-way synchronization
Read more