The only Test Management tool you'll ever need.
ReQtest is a cloud-based test management tool with more than 10,000 users throughout Europe. The testing teams can easily overcome the testing challenges, manage testing priorities and accomplish testing objectives using ReQtest.
Integrated test suite to plan, execute and follow up test cases
Tailor-made to support agile test case management
Intuitive test management process
Aggregated reporting to gain actionable insights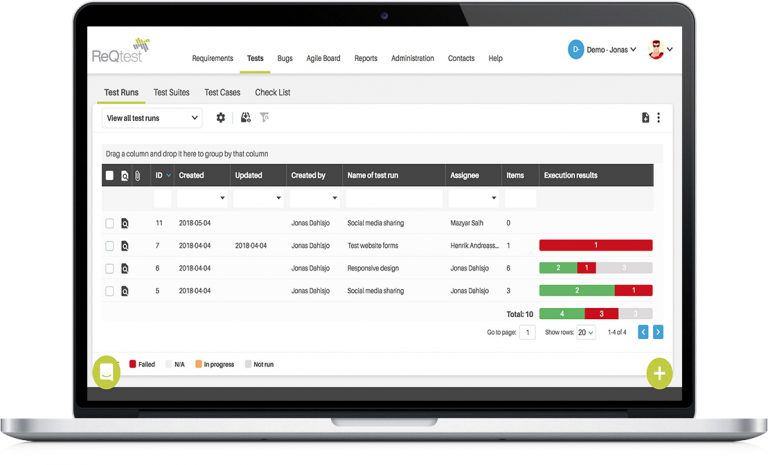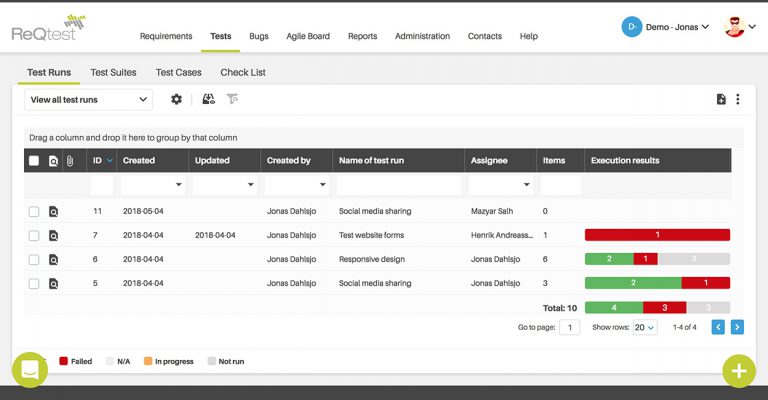 Plan your Testing effortlessly
To start working on the projects in ReQtest is easy and intuitive process. Set up a test project in a few clicks, add users, and easily import test cases from CSV files. It is really easy to get hands-on with the functionality and features of ReQtest.
Create a test run as a frame for your tests
Either use pre-filled forms or customize the forms to write better test cases
Assign test runs to testers and they will be notified instantly
Execute your test plan seamlessly
ReQtest offers a simplified test management process to improve the testing efficiency and productivity. There is an integrated test module to plan and execute tests easily. ReQtest brings test management to JIRA and you can leverage JIRA's issue tracking capabilities.
An intuitive test plan management interface to Execute the test runs
Add test steps in the test run itself even while executing
Report bugs instantly from the failed step & add the bugs to the agile board as task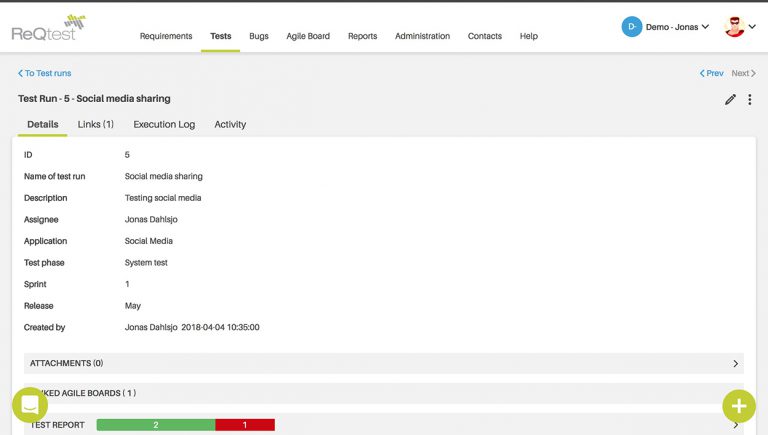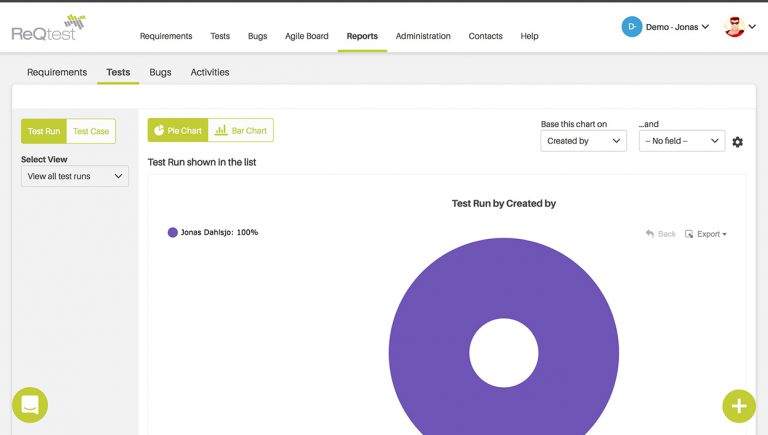 Gain actionable insights instantly
ReQtest offers a separate reporting module to keep track of the progress of testing activity as well as draw inferences on what should be the next action steps. You can populate numerous graphs and charts based on the combination of different fields to gain insights on requirements, tests, and bugs.
Extensive reporting with built in charts & diagrams
Quickly find the data you need through powerful filters
Get real-time insights into your testing process to boost productivity
Full traceability from requirement to test
ReQtest offers full traceability to track links between requirements, test cases, and bugs. You can link the test cases to the requirement. The bugs which are reported through linked test cases will be automatically linked to the requirement.
Link requirements to test cases, test cases to test runs, bugs to test runs & more
The agile board will help you track who is doing what
Use links to track the current status & progress of the work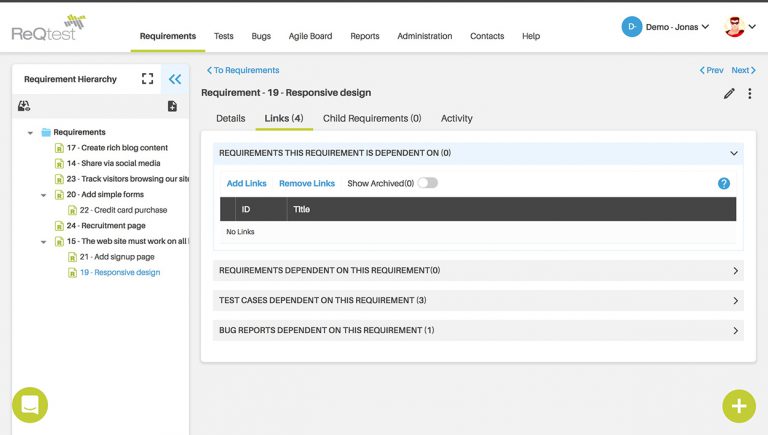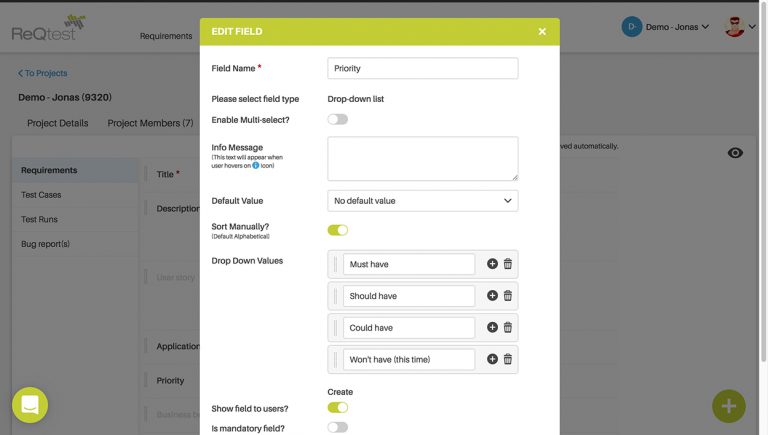 Quickly customize to suit your project needs
With ReQtest, you can customize it as per your needs rather than customize the testing process to match the tool. The flexibility to customize is a strong point of ReQtest. The forms and fields in ReQtest can be easily customized to suit your testing process.
Easily adapt ReQtest to your process
Every template you work with is customizable to fit your process
Add fields as per your need or/and choose from a number of preset field types
Test management integrated to Jira
You can integrate ReQtest's test management module with Jira's issue tracking module. You can get the best of both ReQtest and JIRA to improve your testing outcomes. You are free to handle bugs in Jira or ReQtest or both with full two-way synchronization between issues in Jira and bug reports in ReQtest.
Bring test management into JIRA
Work with bugs in JIRA, ReQtest, or both
Continuous synchronization between issues in JIRA & bug reports