A few updates from our team
We always have something new up our sleeves here at ReQtest! In this edition of our team news, we bring you some recent happenings at our offices and beyond.
Last month, we took part in this year's Kravdagen, which is a major annual event held in Sweden for requirements engineers.
We'll also show you how our team handles teleconferences at our offices, and why having distributed teams should never be an obstacle for holding retro meetings or daily standups in an agile organisation.
Kravdagen – Requirements Day 2015
This year's Requirements Day, or Kravdagen as it's originally known, was held in Stockholm, Sweden, on 26th March 2015. This annual event is organised by Require AB and it aims to bring together people interested in discussing requirements managements and creating opportunities for more collaboration among professionals.
ReQtest had its own stand at the event manned by our very own Ingrid and Ulf. This year's Kravdagen was the most visited one so far, giving us the opportunity to showcase our product and new features to over 180 people who attended the event.
Apart from the exhibition, the event also included various lectures and workshops which combined theory about requirements management with practical tips, success stories and creative ideas.
There was something new to be learnt by even the most seasoned professional as the speakers touched upon the most  current topics and trends in the industry right now, especially those based around this year's theme of the event: Communication.
Check out the photos of Ingrid and Ulf at Kravdagen 2015: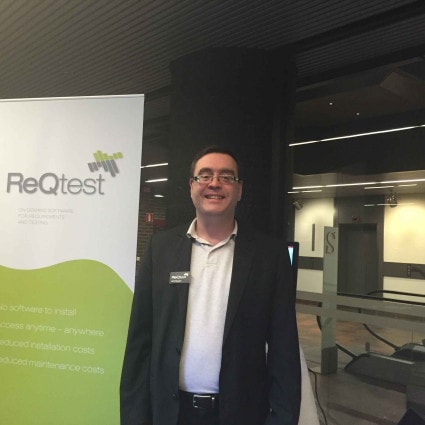 Stockholm calling Malmö and London!
Working with distributed teams has never been easier! We're lucky to have several talented individuals working with us spread all across Europe. Whilst there are some real and quite unique challenges faced with teleconferencing, there's nothing a few basic good meeting practices can't solved.
In the photo below, you can see one of our teams having its daily scrum meeting.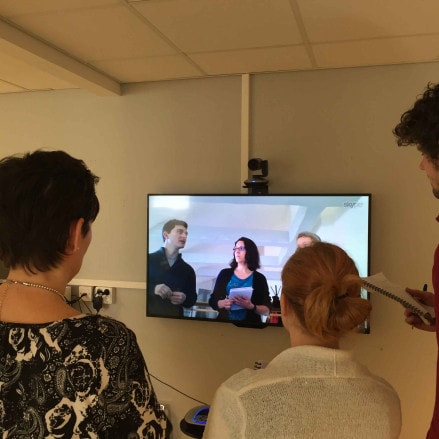 Half of the team in the picture is located in Malmö and the other half is based at our headquarters in Stockholm. But you honestly wouldn't be able to feel the difference if you were standing there with us. In fact, we hold our meeting as naturally as if we were all talking in the same room!
Soon after the daily meeting was wrapped up, we held a retrospective with one of the other teams. Benny in particular was talking to us while enjoying a spell of unusually fine English weather, sitting on a bench in a public park in London. Benny felt like enjoying a bit of sunshine, and then went old-school by laying out all his paper stickies on the bench.

Still using old-fashioned post-it notes, pencils and highlighters to keep track of your upcoming tasks. Ditch the pins and noticeboards and go digital!
The agile board on ReQtest lets you pin as many digital stickies as you like, add comments and instantly assign tasks to colleagues or change due dates according to your burndown stats.
More exciting news coming your way
We're working on a lot of new projects which we plan to unveil throughout the coming weeks and months.
As we mentioned in an earlier post, we're really excited by the positive feedback we received after launching our ReQtest test management plug-in for JIRA, which finally allowed JIRA users to level up their test management capabilities by harnessing the power of ReQtest within that platform.
We're also at a good point in developing our new grid feature on ReQtest, with excellent feedback from our community of beta users coming in all the time and which will eventually enable our users to benefit from another awesome tool which will make their testing lives easier once we roll it out.
Get all the latest news by connecting with ReQtest on Facebook and Twitter.
Share article