Agile Board to visualize your projects
ReQtest Agile Board for agile project management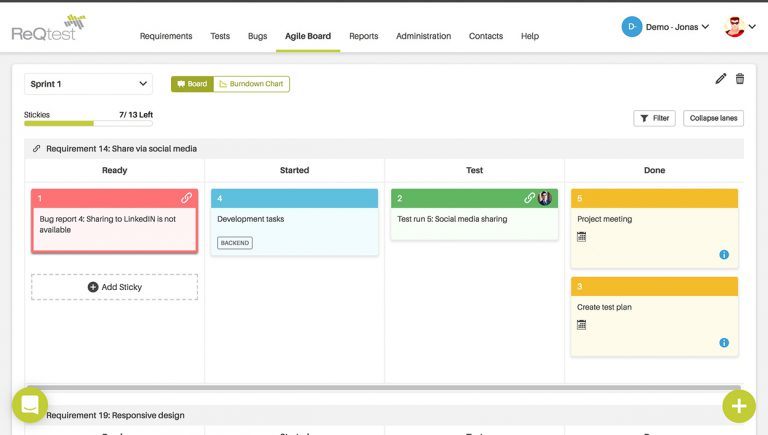 Visually attractive Agile board with powerful basics
Agile board with powerful basics
Colored stickies to reflect tasks in a sprint or iteration
Use colors to emphasize, for example, by marking test tasks in red
Link requirements, bug reports, and test tasks to the agile board to get project snapshot
Stickies to reflect tasks in a sprint or iteration
Use colors to emphasize
Link requirements, bug reports, & tests to the agile board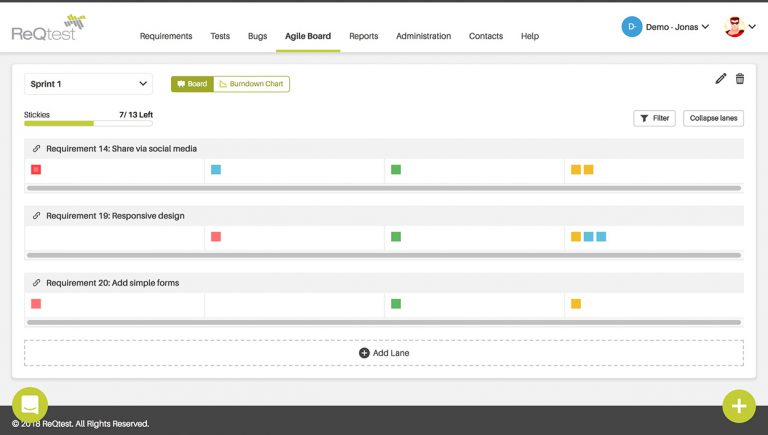 Get quick overview bottlenecks & pending tasks
Identify bottlenecks & pending tasks
Collapse lanes with one click to easily identify bottlenecks
Filter the board to find groups of related stickies
Collapse lanes to easily identify bottlenecks
Filter the board to find groups of related stickies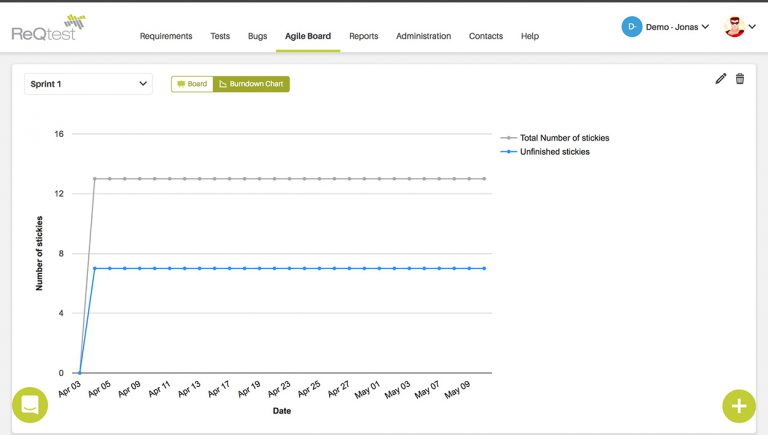 Track project progress in real time
Track progress in real-time
Quick visualization of project's progress charts
Identify any gaps in planning & execution of tasks
Quick visualization of project's progress
Identify any gaps in the execution of tasks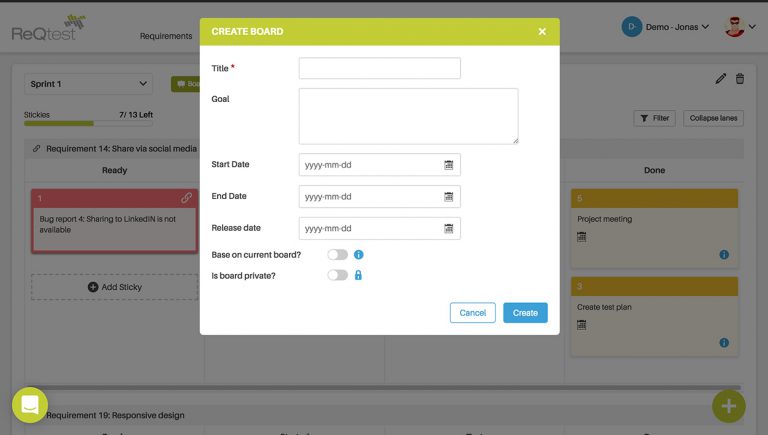 Well suited for agile project management
Transfer all your unfinished tasks to the next sprint in few clicks
Prepare for the next sprint by copying all unfinished stickies from previous sprints
Transfer all your unfinished tasks to the next sprint
Prepare for the next sprint by copying all unfinished stickies
Agile board – Organize, Prioritize & Delegate tasks with ease
Improve collaboration
ReQtest has a visually attractive "Agile board" for effective communication and better collaboration. Create different boards for different functions or keep a single board for your project team. Use stickies to denote tasks or bugs and assign them to your team members.
Manage tasks
Promote synergy among your team with ReQtest's Agile board. Use different colors to group similar tasks. Utilize the filter to group various stickies together. With the Agile board, you can find any challenges that are creating bottlenecks. Add lanes to group different stickies in different lanes.
Track progress
Track the progress of your project with the help of stickies. Customize the Agile board to create columns for tasks which have not begin yet, the tasks that are in progress and the tasks that are completed.
Agile friendly
The Agile board is well-suited for your project team whether you are working in an agile environment or DevOps environment. Copy all the unfinished stickies from your previous sprints to the new sprint.
Complete project management
The Agile board in ReQtest is crafted for project teams to collaborate easily. Your whole project team can stay on the same page whether they are working on requirements, test cases, bugs or any tasks. The Agile board brings colors to mundane and repetitive tasks. ReQtest's Agile board simplifies project management for teams working in a traditional, agile or DevOps development environment. Easily create tasks and assign them to individual team members. Whether you are a Project Manager, Business Analyst, Test Manager, Developer or a tester, the Agile board will cater to your most important needs.